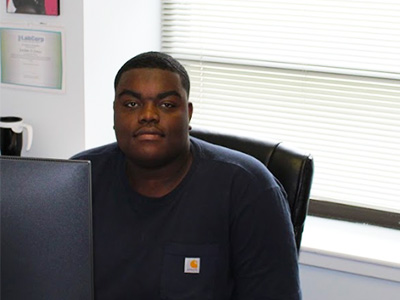 Title: Income Maintenance Caseworker II
Department: Lenoir County Social Services
Started working with County: June 2022
Can you share a little bit about what you do as an Income Maintenance Caseworker II?
I am part of the intake team for Food and Nutrition Services, also known as food stamps. When someone applies for food stamps, I review the application to make verify eligibility, and that the information given is accurate. With that information, I can determine how much assistance you will qualify for based off factors like income, and household size. No two cases are ever really the same.
How did you come to work for Lenoir County Social Services?
Funnily enough, my mom used to work here as an Income Maintenance Caseworker. My first experiences with Social Services were coming for holiday parties when I was a kid and I always liked the vibe! Before working here, I worked at Walmart in Asset Protection so I carried over the incident reporting skills to this new job. I applied for employment with Social Services on a whim thinking I would enjoy it. I was hired and now everything is going well. There has been a learning curve, but I am thoroughly enjoying it.
What sparked this whim to apply for a county job though?
Honestly, working Walmart security, I always saw the negative side of customer service. I was getting people arrested for theft and things like that. I wanted to do something more positive and what I have always enjoyed is helping people. Here, I can help by processing applications and getting them returned quickly. People need to have food; the applicants have families and kids and so if they can fill out their applications, then I can work my hardest to help them get the assistance they need. Since working for the County, I now get calls saying "thank you! You got back to me so quickly." It puts a smile on my face knowing that I was able to help someone in their time of need.
Having been here a few months, can you characterize the workplace atmosphere?
It is very family oriented, and you can feel that immediately. No one will let you struggle. It is not just you come here, you do your job and then go home. I communicate with my coworkers even outside of work hours. It has really become a second family.
Do you feel like the County is investing in you and preparing you for success?
Definitely! I am grateful for the Staff Development Specialists in my department. My first two weeks I came in with a lot of nervous energy, they took their time with me to make sure I felt trained and comfortable with what I am doing. After a couple of weeks, honestly, I was very prepared and that is a testament to their team and how they train us. They are absolutely amazing!
After my first two weeks of training, there were even more training opportunities available to ensure I fully understood my role. If you want to learn something new, and you inquire about it, the department will help you gather more information. The only person that is going to hold you back is you. Lenoir County will try its hardest to help you do what you want to do.
What does "serving communities, building careers" mean to you?
Well, for starters, we really do serve the community, that is the foundation of what we do, that is what we are accomplishing here every day. But, I am also building a lifelong career here at the same time. It almost feels self-explanatory, that is just how we operate.
You live in Goldsboro, what's it like commuting into Lenoir County for work?
It is about a 30-minute commute daily, so it's not bad. I make sure to get here on time and to keep my speed down on the highway *haha*. Once I am here, I really enjoy working in Lenoir County. I was hired during one of the more fun times of the year because we have all the parties: Christmas, Thanksgiving. I especially liked the Christmas Luncheon and seeing all the County employees gathered together in one place to celebrate another successful year. I have never had any other job like that, which puts a lot of thought into us as employees to ensure there's always something special for us.
If a friend was considering whether to apply for a job with Lenoir County, what would you tell them?
I would recommend it. I really would. It has been my favorite job so far, and I don't see myself leaving for quite some time.