Schedule a Ride
Call 252-523-4171
Press 1 – to schedule a ride
Leave the following information on voicemail when scheduling a reservation: full name, phone number, pick-up address, drop-off time, destination address, time of return trip (if one is needed), if anyone is riding with you, or if you need special assistance.
Need more information?
Our staff is available to take your call Monday through Friday from 8am to 5pm.
Call 252-523-4171
Press 2 – to speak to our staff to check on your ride, to cancel a reservation, to advise that you are ready for a return trip
Or Press 0 – to get general information
Transit Hours of Operation
Monday through Friday Pick up begins at 3:30 am and last pick up at 5:30 pm
Saturday (Dialysis Routes only) 4:00 am to 4:00 pm
Office Hours
Our office is open Monday – Friday 8:00 am to 5:00 pm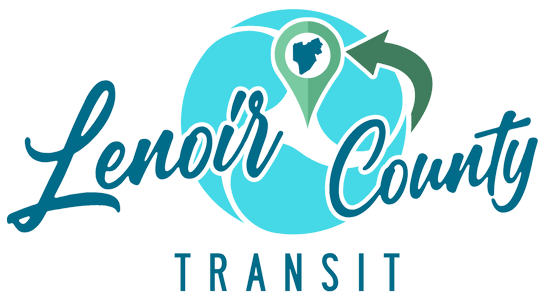 Lenoir County Transportation Department
Phone: 252-559-6457
Fax: 252-559-6458
Reservations or Cancellations: 252-523-4171
TDD/TYY: 1-800-735-2962
Physical Address:
201 E. King St.
Kinston, NC 28501
Hours of Operation:
Office Hours: Monday – Friday 8am to 5pm
Vehicle Operating Hours: Monday – Friday 4am to 6pm
Saturday: Dialysis routes only 4am to 4pm
WE OBSERVE ALL COUNTY HOLIDAYS!
Director: Angie Greene
Operations Manager: Shawn Howard
Administrative Assistant: Kim Webb
Secretary/Scheduler: Crystal Rouse
Dispatcher: Calvin Holloway
Dispatcher: Tonia Rosa
Dispatcher: Ryesha Foye