Lenoir County's deep-rooted tobacco, mercantile, and farming history has emerged into a resurgence featuring farm-fresh, award-winning dining, a vibrant arts scene, and music that touches the soul and lifts the spirit. Arts Neighborhoods, the African American Music Trail, a Music Park, Civil War battlefields and museums, gunboats and our riverwalk create adventures at every turn. America's game is in full swing when the Down East Wood Ducks Minor League Baseball team is in town. Our way of life entices visitors to come and break bread, enjoy libation and recollect a simpler time.
Lenoir County offers visitors "gracious plenty" whether at the table, family fun, discovering the past or a special night out! Stroll along the streets of downtown Kinston and you will develop a new appreciation for the unique culture, heritage, history and flavors of southern life.
Civil War historians and travelers, Art Trails, African American Music Trail, Farm to Fork Culinary tours, breweries and distilleries, all have a home base here. Guests are welcomed into distilleries, shops, art galleries, restaurants, breweries and pubs in historic downtown buildings. A former bank now welcomes guests as a boutique hotel and a retro motor lodge is just a few blocks away.
We invite you to bring your family or business to Lenoir County and experience for yourself the charm and beauty of our county. After a trip to the area, you'll want to join the local businesses and families who already call the area home.
For dining, lodging, events, shopping and entertainment information, please go to VisitKinston.com, the official website of the Kinston-Lenoir County Tourism Development Authority.
Go to VisitKinston.com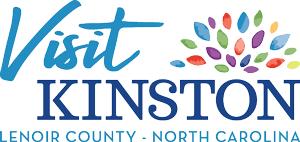 Lenoir County, North Carolina
Phone: 252-559-6450
Fax: 252-526-6454
Physical Address:
130 South Queen Street
Kinston, NC 28501
Mailing Address:
PO Box 3289
Kinston, NC 28502
Hours of Operation:
Monday – Friday: 7:30am – 4:30pm