Fares/Tickets
Free Rides for COVID Vaccines
Beginning Monday, March 1, 2021, Lenoir County Transit (LCT) will be offering free vaccine transportation. Individuals that would like to utilize this service will need to follow LCT's current scheduling policy by calling before 1:00 pm at least one business day in advance. 
The free rides will be to the following locations, by appointment only (no drive-thru vaccine sites):


Kinston Community Health Center
Walgreens (both Heritage St. & Vernon Ave. locations)
UNC Physicians Network (204 Airport Rd.)
Individuals need to have a scheduled appointment with one of the above vaccine sites prior to scheduling a ride with LCT. When calling LCT to schedule, individuals must state that the ride is specifically for them to receive the vaccine.  To schedule a ride, the number to call is (252) 523-4171 and press option 1 for reservations. 
Prices
Rural General Public (RGP)

$5 each way within Lenoir County
Greenville $10 each way

Elderly & Disabled Assistance Program (EDTAP)
Must qualify for program (please contact our office for more details)

$3 each way within Lenoir County
Greenville $6 each way
Where to purchase tickets
RGP Tickets

Lenoir Community College Cashier's Office
231 Hwy 58 S Kinston
La Grange Town Hall
203 S Center Street La Grange
Pink Hill Town Hall
303 S Central Ave. Pink Hill

RGP & EDTAP Tickets

Lenoir County Transit Office
201 E King Street Kinston
NOTE: Greenville trips are Monday – Friday mornings; Tuesday & Thursday afternoons only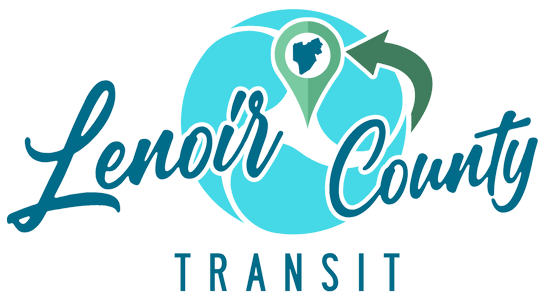 Lenoir County Transportation Department
Phone: 252-559-6457
Fax: 252-559-6458
Reservations or Cancellations: 252-523-4171
TDD/TYY: 1-800-735-2962
Physical Address:
201 E. King St.
Kinston, NC 28501
Hours of Operation:
Office Hours: Monday – Friday 8am to 5pm
Vehicle Operating Hours: Monday – Friday 4am to 6pm
Saturday: Dialysis routes only 4am to 4pm
WE OBSERVE ALL COUNTY HOLIDAYS!
Director: Angie Greene
Operations Manager: Shawn Howard
Administrative Assistant: Kim Webb
Secretary/Scheduler: Crystal Rouse
Dispatcher: Calvin Holloway
Dispatcher: Tonia Rosa
Dispatcher: Ryesha Foye