Lenoir County History
The land area known today as Lenoir County was first part of Bath, then Craven County, then Johnston County, and then Dobbs County and finally in 1791 Lenoir County was chartered.
Lenoir County's County Seat, Kinston, was established in 1762 as "Kingston" and today is among the oldest cities in the state of North Carolina.
The first court house in what is now Lenoir County was erected in 1779. It was a frame structure located at the corners of Queen and King Streets. This structure housed the courthouse, prison, and stocks. Today's courthouse is located at this same location.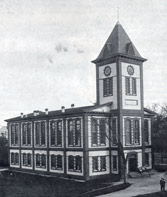 Lenoir County's name honored a Speaker of the State Senate, General William Lenoir. General Lenoir, a hero of the Revolutionary war, was born in Brunswick County Virginia in 1751. At the age of eight the family moved outside of the city of Tarboro. In the years that followed General Lenoir was engaged in patriotic activities, which culminated in vigorous participation in the fight for America's independence.
General Lenoir was one of the original trustees of the University of North Carolina and was President of its board. General Lenoir died in 1839.
Today Lenoir County is one of 100 counties in North Carolina. It consists of 746 square miles, and Kinston remains the county seat.
Lenoir County, North Carolina
Phone: 252-559-6450
Fax: 252-526-6454
Physical Address:
130 South Queen Street
Kinston, NC 28501
Mailing Address:
PO Box 3289
Kinston, NC 28502
Hours of Operation:
Monday – Friday: 7:30am – 4:30pm