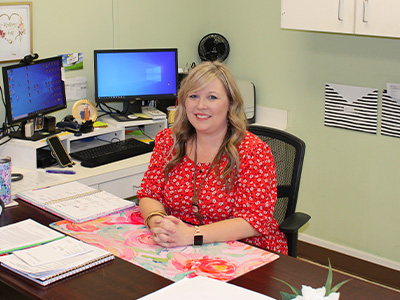 Title: Director of Nursing
Department: Lenoir County Health Department
Started working with County: April 1, 2020
Can you share a little bit about what you do as the Director of Nursing? What is a typical day look like?
I oversee the Clinical and Care Management Services here at Lenoir County Health Department. I make sure that all our programs are abiding by program requirements, that programs are staffed appropriately, that licenses are renewed, and standing orders and policies are up to date and reflect current standards of practice.
On a typical day: I will come in, check emails, and go upstairs to check on each department and make sure that all of the staff feel good and ready for the day. Then, I handle any problems that arise throughout the day.
What led you to come to the Lenoir County Public Health Department and what position did you start at?
I was looking for a schedule that allowed more time for my family. Before coming to Lenoir County, I worked twelve-hour nursing shifts every other weekend, rotating days and nights for 16 years. I wanted something where I could be home with my family each night, on the weekends, and over the holidays. So, I came to Lenoir County, where I started out as the Clinical Supervisor.
What qualifications did you need and how did you obtain them?
For my job, a Bachelor of Science in Nursing was required. I also needed to complete a Director of Nursing orientation put together by the Chief Nursing Officer for the State which consisted of a mentorship with a state consultant as well as with a local Director of Nursing. Since then, the Health Department has helped me participate in professional development workshops run by the North Carolina Association of Public Health Nurse Administrators and the North Carolina Public Health Association.
What do you enjoy the most about your job?
Making a difference. There have been a lot of changes since I started here… I joke because I only came in April of 2020 as the pandemic began, so there was a lot of changes, especially in the health sector. But even though we have been through so many changes, I can see how much we've grown through them. We are really making great strides in ensuring that this department provides what our community needs.
What is the "why" that drives you to do this work?
I have always made it my goal to have a servant's heart. I see myself as the hands and feet of Jesus. I want to do my job in a manner that is pleasing and fulfills his plans for my life. I truly believe He placed me here at this job for a purpose and that is why, even through the day-to-day struggles, I am able to do this job well because I know that I was put here for a purpose.
What makes you feel like the County is investing in you as an employee and as a person?
The county gave me opportunities to move up. Even though I had very little Public Health experience, they recognized the experience that I did have as a nurse and saw the potential in me. I'm grateful they gave me the chance to step into an even larger role.
Do you live in Lenoir County? What do you like about it?
I do live in Lenoir County. I grew up in a small town and to me, small communities have a lot to offer. The people know each other and care for each other. They know their needs and can come together as a community to make things happen.
What does "serving communities, building careers" mean to you?
As you build your career here in Lenoir County, you become a part of the community. When I came into the job my professional background was more in acute health services, so I didn't have much of a public health mindset. The Lenoir County Health Department gave me that public health perspective and in doing so made me feel deeply involved in my community.
What is next for you, how has working for Lenoir County influenced how you view your future?
Honestly, I plan to stay here and finish out my career here at the Lenoir County Health Department unless God says move. Being in this position has made me realize that it is okay to step out of your comfort zone and to do something different.
If a friend asked you if they should consider working for Lenoir County, what would you tell them?
Absolutely! Lenoir County has a lot to offer and it needs great people to accomplish what the community needs. And I would especially recommend coming to work for Lenoir County Health Department because we have a great team here!